In 1963, they released their third and most successful record, "Twins." After reaching No. 7 on the local Top 40 charts, Cadet Distributing, a promotional firm in Detroit, signed them to a record contract. Cadet then re-released "Twins" in 1964 with a slightly different arrangement, on the Derry label. Cadet promoted the record heavily in the western states. Just when it looked as though it was going to take off, the "British Invasion" struck like lightning. The record stopped receiving airplay and died.
Discouraged, but unwilling to give up, the Kingtones cut their fourth record, "The Girl I Love" in 1965, released on the Drummond label. Cadet promoted the record and it soared to No. 4 on the Top 40 charts. The Michigan Review reported it as one of the biggest selling records in Grand Rapids, Lansing, Flint, Detroit, and in neighboring Toledo, Ohio. Nationally however, radio stations did not give it enough airplay to keep up the momentum, and another record died. Cadet soon relinquished any hope for The Kingtones, and their next recording, "I Am the One Who Stands Alone," never went to vinyl.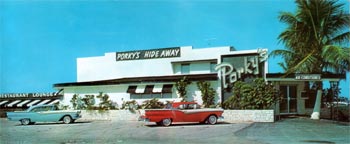 In the spring of 1964 the band traveled to Fort Lauderdale. They decided to try to book a gig in Florida and went to discuss the possibility with the management of Lenny's, one of the largest clubs in the area. They struck out there, but refused to give up and auditioned at Porky's, another large club.