The Kingtones & The Holy Grail

The following is from Eric Predoehl's
Louie Louie
website, with a posting by Drake Bradley concerning the Kingtones release of the song Louie Louie in 1987.
http://www.louielouie.net/blog/?p=358
December 19, 2007
Kingtones & The Holy Grail
Filed under: Garage Rock, LOUIE Universe, New Versions, Old Versions — EP @ 1:24 am
Today, I'm going to let my friend Drake Bradley do a guest blogging about a musical quest that involves LOUIE LOUIE.
Enjoy ! - E.P.
* * * * * * * *
The Holy Grail
I suppose some people might Google the phrase above and wonder how the heck they ended up at a Louie Louie site. After all, we're not talking about a silver chalice or mysterious artifact, the secret to immortality, or even the blood descendant of a famous carpenter. Nope, we're talking about the quest for an original Louie. Only hardcore devotees of the subject — people who spend hours a day searching for new versions — really get it.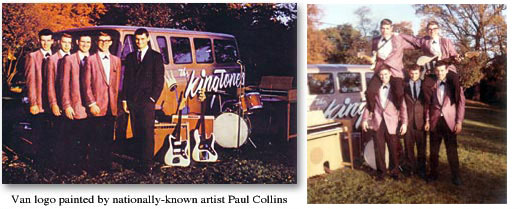 The quest starts by trying to collect all the better known versions of the song, then more obscure songs of interest only to collectors. The ultimate rush comes from discovering a previously unknown version, say from a discarded cassette tape with a homemade recording of Louie Louie by some garage band that rehearsed a couple of times and broke up.
Sometimes you find Louie when you aren't even looking for it. A couple of months ago I was using an mp3 search engine to look for variants of one of my favorite songs, C. C. Rider. That landed me at a website for a garage band called
The Kingtones
. They had a short sample of C. C. Rider that was really great, and I wrote the band to see if I could get a full length version.
Bruce Snoap
, one of the original members, got back to me and kindly offered to make both C. C. Rider and Proud Mary available at the website. This required some technical wizardry, as the songs had to be converted from tape at a higher resolution than was previously used for the samples.
At some point in our correspondence I asked if the Kingtones had ever done Louie Louie. No sample had been posted on the sample page, but I figured they might have a recording of it lying around in the archives. Bruce emailed me back to say yes, they did have a recording on cassette tape. The Holy Grail was now within reach, and I literally jumped at the opportunity. After much negotiation, arm- twisting, and promises of 1st-born sons I convinced Bruce to post the song on the band's web page. (Actually, one email did the trick.) Helping Bruce to resurrect Louie Louie was
Phil Roberts
, another original member of the band, and
Joe Mercier
, who provided technical assistance. The result is, I think, well worth their effort.
To hear the "new" Louie, go to the Kingtones' website, click on
Music Samples
, scroll two-thirds the way down the page, and click on Louie Louie (see graphic). Or you can simply
click here
. While you are at it, give a listen to
C. C. Rider
and
Proud Mary
. All are full-length, 160 kbps / 44.1 kHz versions of the songs. If you are so disposed, crank the volume up and listen to the Kingtones rock the house.
The Kingtones' Louie Louie, taped live in 1987, is basically the same version they performed in 1963 during the Louie craze. On hearing the Kingtones' version, EP said "… I love it. It's a raw Kingsmen- inspired copy with a lot of attitude. What's not to love?" That pretty much sums it up. It starts out with a slow organ intro, accompanied by the buzz of an amplifier which hints at the pounding guitar chords to follow. The lyrics are obviously improvised, and when I asked Bruce Snoap about this, he said:
"… when Louie Louie 1st came out, there were no words to the song to be found, at least we couldn't find them. So 5 of us listened to the song over and over trying to figure out the lyrics. What you hear in our version is the best we could come up with. After the words were published, we were so used to doing it with the wrong words, we just kept it that way."
The Kingtones were a regional band out of Grand Rapids, Michigan. The band started in 1957 when the original members were only 13 or 14. In 1961 they cut their first record, "Wish for an Angel / Don't Come Around", which hit No. 1 on the local Top 40 charts in West Michigan. In 1963 the Kingtones opened, backed, or performed with
Del Shannon
,
Bobby Vee
,
Bobby Vinton
, and
The Beach Boys
. In the same year they released their third and most successful record, "Twins," which reached No. 7 on the local Top 40 charts. Cadet Distributing, a promotional firm in Detroit, re-released "Twins" in 1964 with a slightly different arrangement. Although the record was promoted heavily in the western states, just when it looked as though it was going to take off the "British Invasion" struck and the record stopped receiving airplay. Undaunted, the group continued to perform as a highly popular garage band for the next four and a half decades.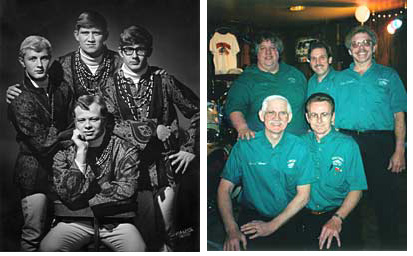 In 1987 the Kingtones made a
cassette tape
for limited distribution of the 15 most requested songs they did: Mother-in-Law, Language of Love, Summertime Blues, Proud Mary, Sloopy, C. C. Rider, Act Naturally, I've Had It, Louie Louie, Duke of Earl, Wooly Bully, Johnny B. Goode, Gloria, Rip It Up, and Happy Birthday. The Holy Grail comes from this tape.
In 2004, WGVU TV / Kingtones Documentary, The Kingtones: A Retro-Spective
won a national award
.
On November 10, 2007, the Kingtones put on
their final public performance
in a 50-year career of rock 'n' roll, nourished no doubt by the magic and energy of that 3-chord rock anthem, Louie Louie.
Drake Bradley
* * * * * * * *
All photographs graciously provided by
Kingtones.com
.