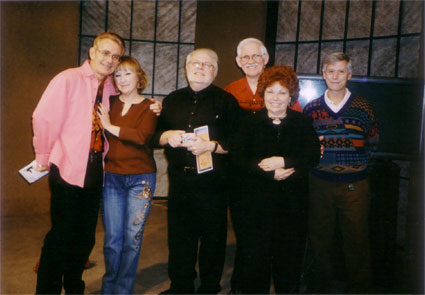 Arriving early, to help man WGVU's phone bank, were many Grand Rapids Rock Celebrities of the sixties.
Left to right: Phil Roberts (Kingtones), Linda Grzybowski (Lin' and the Invaders), John Brown (John Brown Trio), Bruce Snoap (Kingtones) Ruth Ann Scott (Ruth Ann and the Invictas); Ron Beatty (Eschelons).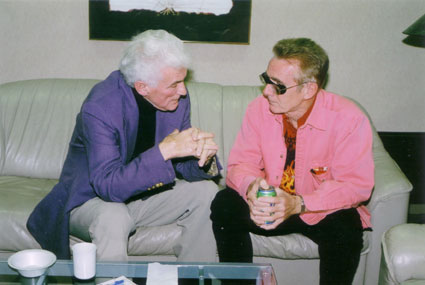 (Left) Kenny Gordon (Kenny Gordon and the Sound Gathering) and Phil Roberts reminisce about their musical successes and failures.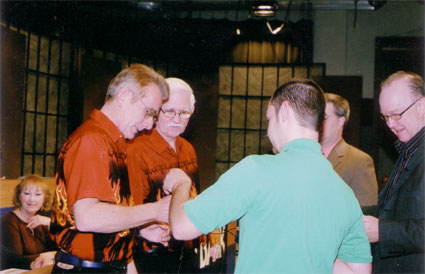 Just minutes before the show begins, Phil and
Bruce are being hooked up to microphones.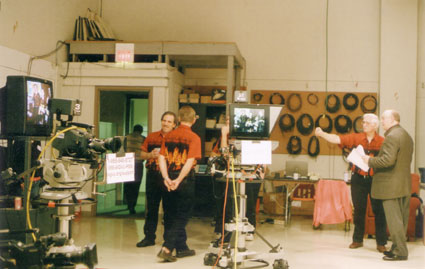 Bruce and producer Gary Hunt, going over last minute instructions.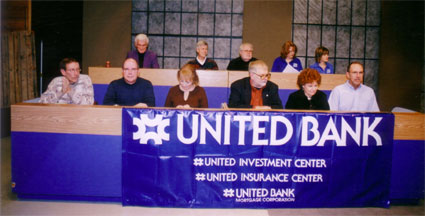 With an "All Star Celebrity" phone bank in place, the show begins.
Back row-left to right: Kenny Gordon, Ron Beatty, John Brown, and 2 United Bank TV Challenge Grant Sponsors.
Front row-left to right: Bob Becker (former WLAV; WJIM; WGRD; WODJ; WOOD FM; disk jockey; presently with WGVU AM), Mark Roberts (Chevrons; former WGRD; WOOD; WTRV; disk jockey; presently with WFGR FM), Linda Grzybowski, George "The Fine Baby" Arthur (former WLAV; WMAX disk jockey; presently with WOOD AM), Ruth Ann Scott, Pat Cooper (The Invictas).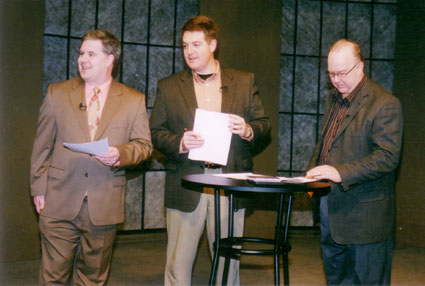 The program's MCs, Len O'Kelly (left), Jim Rademaker (middle), and Gary Hunt (right), take their position for the start of the show.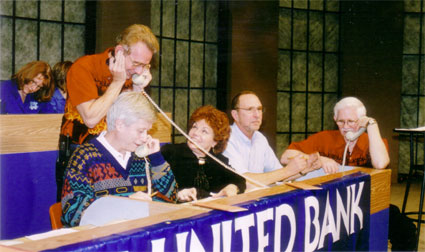 As pledges start coming in, several of the Kingtones are requested to take calls from people that want to talk to them before they pledge... Phil and Bruce (in red shirts) talk with callers.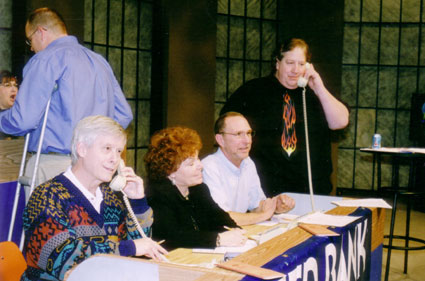 Kingtones vocalist "Big Jim" (with the flames tie) takes a call.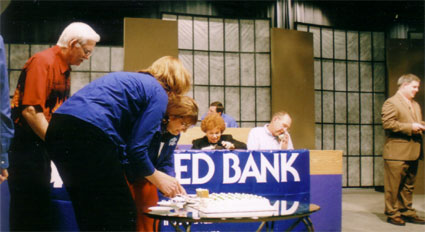 The nights program was not only a fund raiser for WGVU's PBS Station, it was also an Anniversary Celebration for the Kingtones (50 years), United Bank (120 years) and WGVU TV (35 years).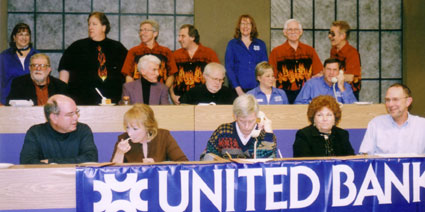 Cake was served as part of the Anniversary Celebration.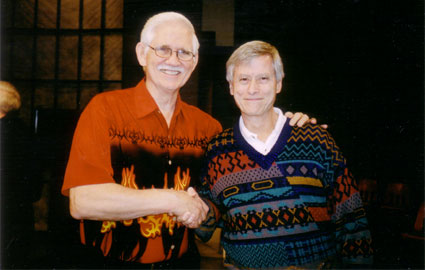 Bruce Snoap (left) being congratulated by Ron Beatty.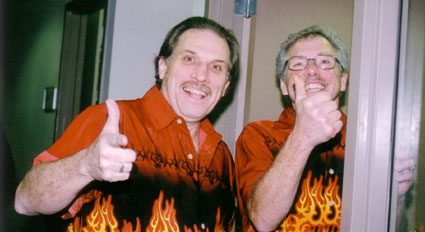 Jay Fortier (left) and George Campbell (right), giving thumbs up for a successful and fun night.